İstanbul, the bustling metropolis of Türkiye, is a city full of charm, where the past goes hand in hand with the present and every step brings to light a relic of times gone by. At the crossroads of two continents – Europe and Asia – this spectacular city has absorbed the best of both worlds.With its beautiful historic landmarks, quintessential cuisine, vibrant nightlife, festivals of art and music, celebration of faith, labyrinths of marketplaces and shopping arcades, the beating heart of İstanbul, and the soul of Bosphorus under the watchful eye of the Maiden's Tower is a traveller's dream.
Discover the wonders of Istanbul, a city that offers a wealth of experiences for all. From indulging in the flavors of Gastrocity, to immersing yourself in its rich art and culture, to exploring its vibrant shopping scene, to finding spiritual solace in its historic sites of faith and beyond, Istanbul has something for everyone.
Entitled as one of the most dynamic cities in the world by "Cities of Opportunity Report" of PwC, Istanbul is literally a metropolis. Istanbul is a transcontinental city straddling two continents by its inland sea, Marmara. One of the world's busiest waterways, the Bosphorus, is situated in northwestern Türkiye between the Black Sea and the Sea of Marmara. Connecting the two seas, Bosphorus also separates İstanbul to two sides known as European side and Asian side. Istanbul is not only an UNESCO World Heritage Site but also became a hub for contemporary artistic developments and creative industries. İstanbul's cosmopolitan spirit –diverse and intercultural- is proved by the fact that nearly 75 K companies dealing with international trade which makes the city also a financial capital.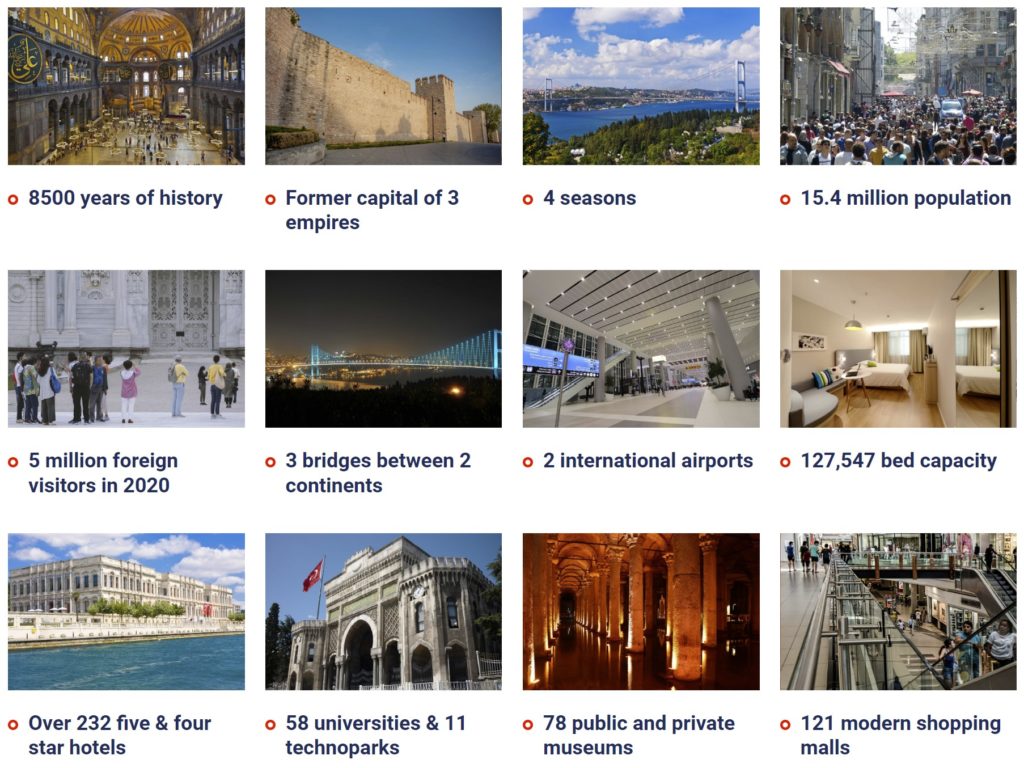 Useful Tips
Language
The official language is Turkish. English is usually spoken in touristic areas.
Time zone
Turkey time (TRT) zone varies within UTC/GMT+3h according to the region. In August CET+1, GMT+2.
Voltage
Electrical system in Turkey operates on 220 V and the standard frequency is 50 Hz. The power plugs and sockets are of type F, thus you will need a voltage converter and plug adapter to use U.S. appliances.
Telephone Calls
The dialling code of Turkey is 90. Every cities have different codes. To make international calls, you need to dial country code, city code, and the remaining numbers.
Currency
Local currency is Turkish lira (TRY). Dollars and Euros can be easily exchanged in hotels, authorized banks, and exchange offices. International debt and credit cards (Visa and Master Card) are accepted in most places.
Tax
Taxes ae included in the labels.